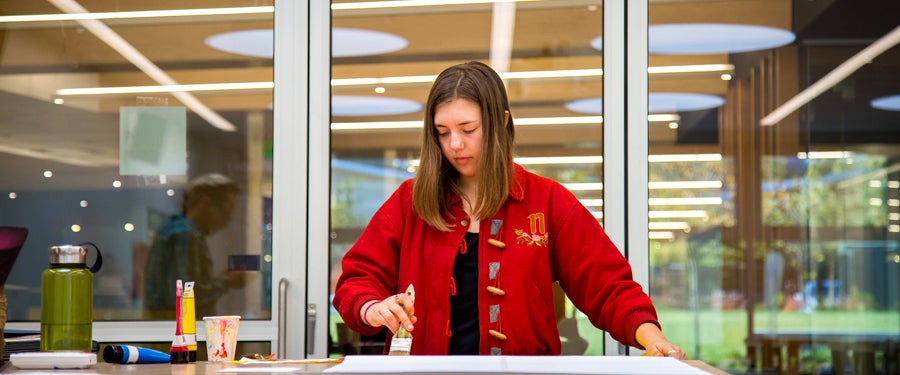 This community is full for fall 2023.
This community is full for fall 2023.
What is the Art + Design community?
The Art + Design community is a group of students living and working together to develop creative art and design projects. Students will discover how art and design can transform the world and will share creative works with the larger campus community through exhibitions and community events. Residents living here will have unique opportunities to connect with working artists and designers from the university and beyond. Learning how to use art and design to enrich our communities and world is central to the Art + Design community.
Why should I choose to live in this community?
The Art + Design community is open to students interested in making art, viewing art, or creating original, inventive designs. You will be introduced to studio-based learning and foundational concepts of art and design. As part of our creative community, you will connect with like-minded peers, faculty, professional artists, and designers through special events and activities. No previous experience is required, although priority will be given to students majoring in any school in the university's College of Design. The Department of Art and the College of Design collaborate to support this community.
What are the community expectations?
ART 115: Surface, Space, and Time (4 credits)
ART 116: Core Interdisciplinary Lab (4 credits)
UGST 111: Art + Design ARC (fall: 1 credit, winter: 1 credit, spring: 2 credits)
All courses satisfy specific major and/or minor requirements
Location
Residence Hall: Unthank Hall. Students living in this community must select roommates who are also in the community.
Please note that communities can be moved to different residence hall buildings if the size or need of the community changes.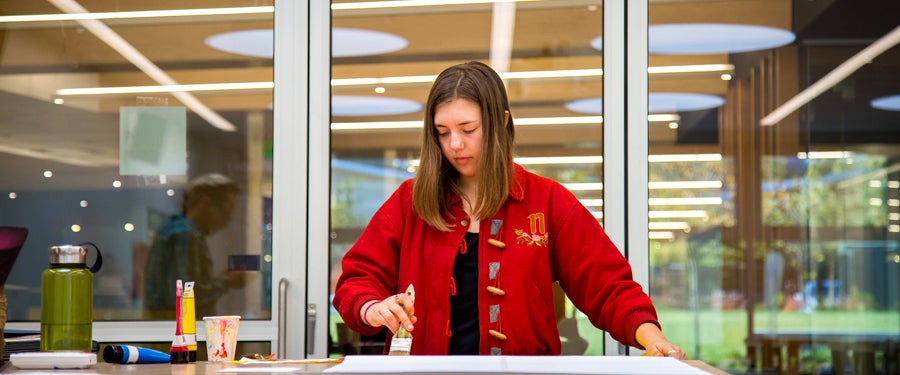 For more information, contact artdesignARC@uoregon.edu.
Who is eligible and how do I apply?
All first-year students are eligible.
Priority for the Art + Design ARC will be given to students majoring in art, art and technology, and product design. The classes in the Art + Design ARC do not fit within the architecture curriculum and is not advised for admitted architecture students.
Register for University Housing and select the community you prefer in the "Community Preference" section.
Fill out the supplemental questions on your housing application. The program director will be in communication with you over the summer to remind you to fill out the form and determine class placement and details.
Explore other Community Options