Our chefs take pride in using ingredients from 25 local farms to prepare delicious recipes from scratch. All students who live on campus choose one of five residential meal plans that let you eat the way that's right for you. University Dining locations are also open to the campus community and accept Ducks Dine On, cash, and credit cards.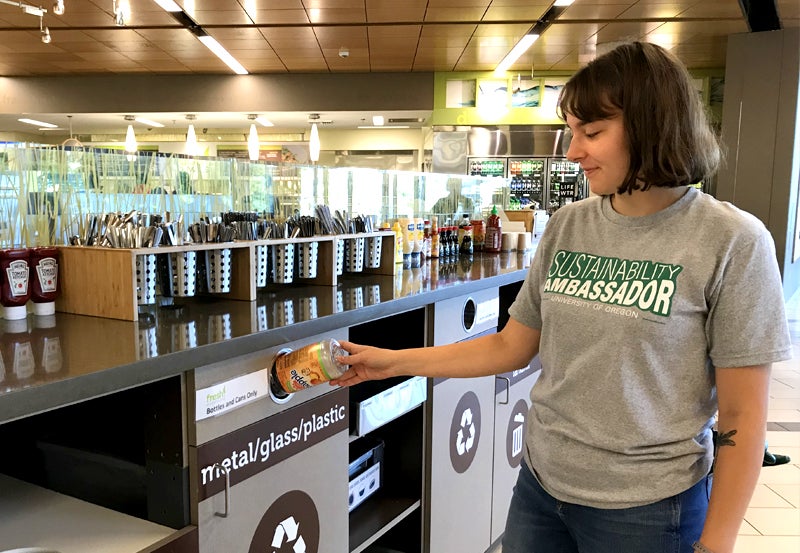 Sustainable Dining
In addition to sourcing food from local farms, we do our best to make sure our entire dining operation is sustainable.
We encourage the use of reusable plates, baskets, and flatware over single-use disposable items. We compost more than 170 tons of food scraps each year. This waste that would otherwise be sent to a landfill is used in gardens throughout our local area. In addition, all of our spent fryer oil is converted into biodiesel fuels through a local partnership.
All of our dining locations have water refill stations or water spouts on soda dispensers. We encourage students to use refillable coffee mugs—we even reward you with our Choose to Reuse program. Bring your refillable mug in nine times and the tenth drink is on us.
Due to COVID-19, the use of reusable items and refillable options is limited at this time. 
University Catering
University Catering is a full-service catering company available to University of Oregon students, faculty and staff members, and the greater Eugene-Springfield area. Planning an event should be simple, and it will be with the wide range of customizable options and beautiful preparation that comes with University Catering.
We are dedicated to the notion that our meals and events should always be exceptionally delicious and unforgettable.
University Catering and Conferences is proud to offer sustainable options for any event that we cater. We can work with you to reduce waste and purchase local products.