New Residence Hall
Dynamic and attractive communities are needed to help drive and support student recruitment and retention in a very competitive environment.
Students who live on campus in the UO's high-quality, learning-centered residential communities have higher grades, higher retention and graduation rates, and graduate faster than students who live off campus.
Living on campus at the UO facilitates diverse and inclusive communal engagement, contributes to students' exploring purpose and meaning, and facilitates students making long-term social connections.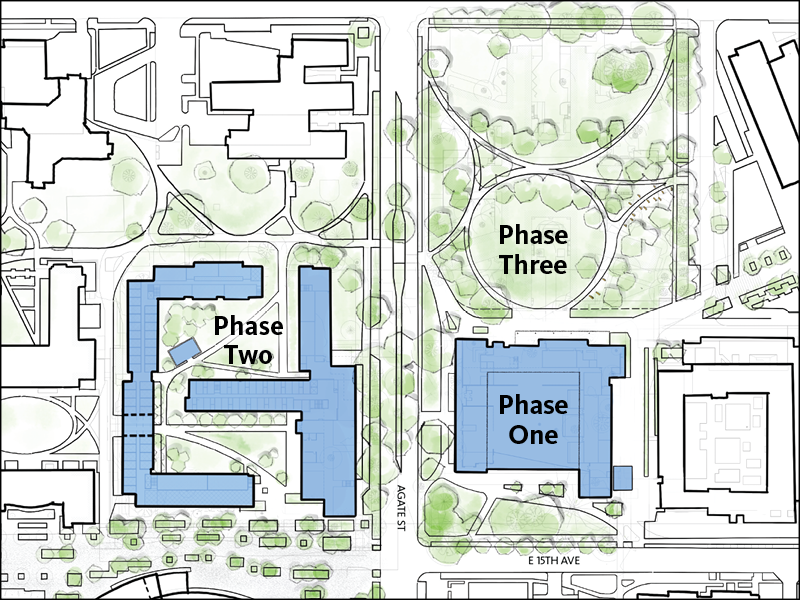 Project Overview
The Hamilton-Walton Transformation Project will unfold in three phases:
New residence hall on Humpy Lumpy Lawn will contain a welcome center, large open market and food court, academic spaces, and residences for 700 students.
Removal of Walton Hall and construction of two new residence hall buildings.
Removal of Hamilton Hall and development of a new Humpy Lumpy green space which will be larger than the Humpy Lumpy Lawn area where phase one will be built.

Phase One
Phase one of the construction of the new residence hall on Humpy Lumpy Lawn began on December 2, 2019, with fencing and site preparation (shown in red, left). The fencing will remain up for the duration of the project. Pedestrian traffic will be detoured to the north and south of the site (shown in green, left), and the sidewalk on the east side of Agate Street will be closed. Construction traffic will enter and exit the site at the northwest and southwest corners; flaggers will be posted to ensure pedestrian safety.
Phase One Project Facts
Residences for approximately 700 students
PNW Market will be the new student dining venue for all students and community members and will be a venue available for students on a meal plan
The Duck's House restaurant will also be a great dining option for students and community members
The project will feature a new prospective student recruitment and welcome center
Phase one will be roughly 209,000 GSF (gross square feet)
Funding sources: revenue bonds/internal bank, university carry-forward funds, fundraising and sponsorships
Anticipated cost for phase one is $87 Million
Anticipated LEED Gold
Phase One Timeline
Start date: December 2019, construction fencing and site preparation
End date: August 2021, building ready for occupancy
Sustainability
Project administrators located the building to preserve as many of the large trees along 15th Avenue as possible. Some of the trees that will be harvested will be used in the project.
The amount of green space that will be available after the entire project is completed will be larger than the current green space by approximately 20 percent.
The Phase one building will meet the Advanced Energy Threshold—25 percent above the current state energy code—and will earn LEED Gold certification.
Construction Update, September 26–October 2
This week there will be wood framing, MEP systems routing, exterior scaffolding, sheathing, and windows and moisture barrier work. 
High impact activities:
Powered hand tools  •  Delivery trucks

Expect increased construction traffic around the site at 15th Avenue, Agate Street, and Columbia Street. Flagging provided during heavy trucking.
East sidewalk of Agate Street is inacccessible to pedestrian traffic. 

Construction hours are 8:00 a.m. to 7:00 p.m.; loud work starts at 9:00 a.m.
Contractors have been asked to be mindful of student schedules and noise levels.