Derek Brandow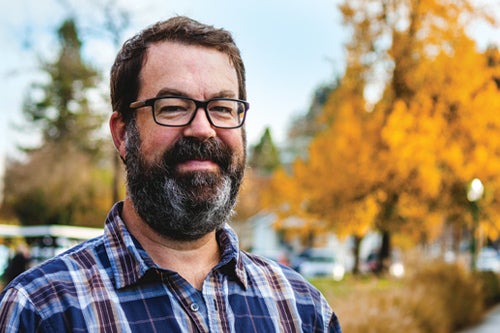 Faculty Fellow; Instructor of Confidence, Advertising, School of Journalism and Communication
Background and areas of interest:
I currently work with the advertising faculty in the SOJC, and my background has always been education. I have taught and upper level course for the past five years called Confidence in the SOJC. It has been received very well by students and faculty. What we do in this class expresses my interests when it comes to creating experiences for students. I am interested in students recognizing and believing in the truth of their being versus believing in the worthiness they are offered from a "like" button on social media. I want to see students be true to themselves. The end of one of my favorite quotes sums my interest up well. It's by a woman named Marianne Williamson in a poem called, "Our Deepest Fear." She ends with "And as we let our own light shine, we unconsciously give other people permission to do the same. As we are liberated from our own fear, our presence automatically liberates others."
What brought you to the University of Oregon?
A lovely conversation on the patio of Vero Espresso House with Deb Morrison, two Americanos, and a labradoodle. She needed someone to teach Confidence (her "secret weapon"). After our conversation, she looked at me and said, "you're my guy."
How did you get involved in your field?
I've followed the professional path that resonates from the core of who I am. I am a teacher/mentor/coach. That is my gift. Thankfully, over the past five years, there have been opportunities presented to allowed for this gift to fly high.
What is the best advice you have for a college student?
It is easier, more sustainable, a happier ending to be who you are versus who you think "they" want you to be. I defer back to the Marianne Williamson quote. 
You belong. 
You are worthy of love and acceptance.
Your voice matters.
We need you.
You are so much more than what you do.
Listen.
Learn.
Be kind to yourself.