Earl Hall
Located in the center of campus near the Student Recreation Center and the newly-remodeled student union building. Earl residents enjoy a prime location to stay fit and play outdoor sports. 
Earl is connected to Straub Hall, an academic building with exciting new classroom technology, study spaces, and community areas. Earl has multi-gendered floors and open study and TV lounges.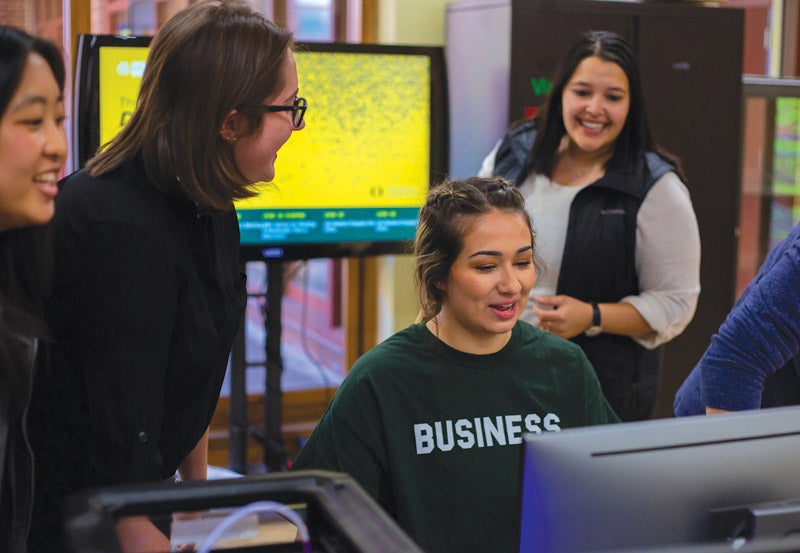 Amenities
All utilities
Classroom space
Community kitchen
Covered bike parking
Laundry
Maker-hacker innovation space
ResNet services
Study and lounge spaces
Wi-Fi in all rooms
24/7 on-call staff
---
Earl Hall Communities
Students interested in healthy living and health sciences will find communities with like-minded classmates in Earl Hall, which is located close the student rec center and the Department of Human Physiology at Esslinger Hall.
New location for LGBTQIA+ Scholars and Gender Equity Hall: The members of the LGBTQIA+ Scholard community share intellectual and social experiences focused on understanding of and respect for lesbian, gay, bisexual, transgender, queer, questioning, intersex, asexual, and allied identities, histories, and practices. Adjacent to the LGBTQIA+ community is the Gender Equity Hall, housing students who do not wish to conform to the gender binary of male or female. Residents in this community can choose to share a room with a student of any gender identity or biological sex. The Gender Equity Hall does not have the shared course work or academic components of an Academic Residential Community.
Service Center
Located at the Living Learning Center. Go here for mail and packages and a key if you're locked out.
Phone: 541-346-4217
10:00 a.m.–9:00 p.m. Monday–Friday
Noon–7:00 p.m. Saturday–Sunday
Construction in the Neighborhood
The renovation of Hayward Field near Earl Hall is almost complete.