Wonkak Kim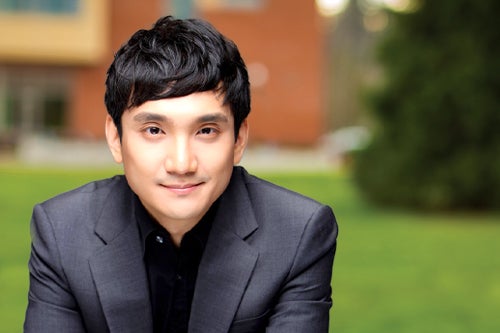 Faculty Fellow; Assistant Professor of Clarinet, School of Music and Dance
Background and areas of interest:
I am a concert clarinetist and present more than 50 performances around the world each year. I have been invited to more than 50 universities and conservatories internationally and performed in leading venues such as Carnegie Hall. My professional interests are focused around classical solo, chamber and orchestral music performance, the fusion of East Asian traditional music with Western contemporary music, and high-level musicianship. My personal interests span from antiquarian book collecting, classical LP records, modern literature, investment/personal finances, and career planning. 
What brought you to the University of Oregon?
When I was offered the clarinet professor position at the University of Oregon, I was particularly excited with its mission that emphasizes open collaboration and innovation. I am very proud of the forward looking vision shared by both the faculty and students of our university, which has already had a profound impact on both my research and pedagogy in very positive ways. 
How did you get involved in your field?
I had rather unique professional upbringing. My primary major in college was mathematics, but I enjoyed fully engaging myself in my second major, music performance. As I experienced the thrill of high-level performances—particularly in the field of chamber music—with some of the world's most renowned musicians, I quickly realized that music is what I wanted to dedicate my life to. Coming from a family of academics, I chose to pursue my career as a music professor while maintaining an active performing schedule. I have been fortunate to have many important mentors and professors who became ideal role models for planning my career. 
What is the best advice you have for a college student?
I suggest that every student stay fully open and engage in as diverse experiences as they can. While it is very important to fully invest their efforts and time studying their primary discipline, I strongly believe that a broader perspective, a wide array of personal interactions, and an understanding of diverse cultures will shape each student to become a better scholar, person, and entrepreneur. I find that my biggest strength as musician and educator often comes from my non-music experiences such as mathematical studies, reading diverse literature, and traveling and living in many difference places around the world.