Kim Marshel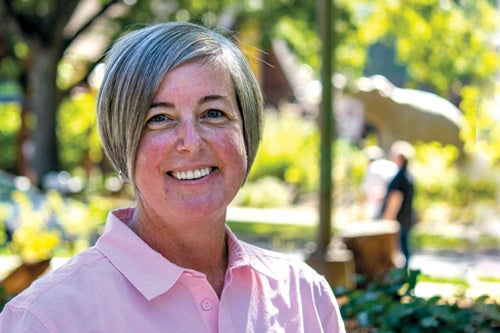 Assistant Director for College and Career Advising—Healthy Communities Flight Path
What is your background and areas of interest?
I have worked at the UO for two years and have nearly 18 years of educational leadership experience. I have a bachelor of science degree in psychology, a postbaccalaureate certificate in women's studies, and a master's degree in educational policy from Portland State University. As a former student-athlete, I understand how difficult finding balance can be when managing multiple roles. I love helping students put the puzzle of college life together in a way that gives them the confidence and support needed to know they can accomplish great things.
What brought you to the University of Oregon?
I grew up in the Pacific Northwest and living near my friends and family are important to me. I made the move from Vancouver, Washington, to Eugene because I was excited about the integrated academic and career advising that was being developed in Tykeson Hall.
How did you get involved in academic advising?
Having the opportunity to support and mentor students as they navigate their way through their education journey is incredibly rewarding. We are in a unique position in that we get to celebrate the educational wins with students, as well as help to raise them up when things are difficult. Academic advising is a partnership between myself and the student and I was fortunate enough to see the value in that relationship early on in my professional career. As a Flight Path coordinator, I get the privilege of leading a team of eight amazing advisors who are equally as passionate about helping students reach their goals.
What's the best advice you have for a college student?
Experience all that college has to offer, both inside and outside of the classroom. Going to college will be one of the most exciting and character-building moments in a person's life; be present and enjoy every moment.
How can students contact you?
My office is on the second floor of Tykeson Hall and my door is always open! Any formal questions can be answered through an appointment scheduled through Navigate, and I look forward to connecting with students via email at kmarshel@uoregon.edu.