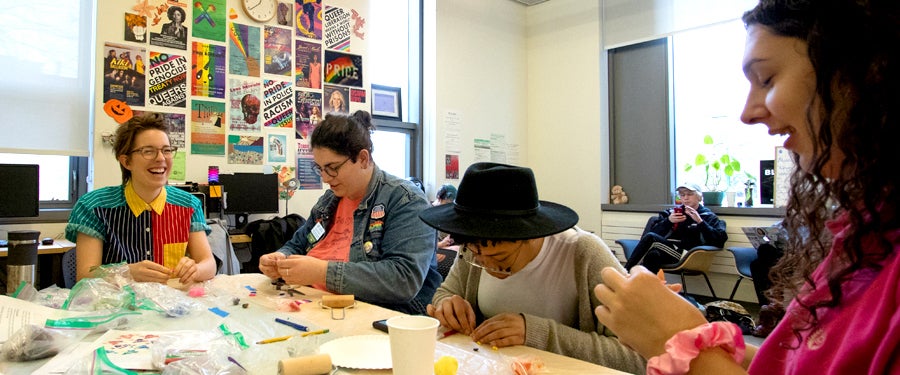 This community is full for fall 2021. However, we still want to support you in having as inclusive, supportive, and affirming an experience as possible living in the residence halls and attending the UO. If you have questions about gender-inclusive and LGBTQ+ inclusive housing options within the residence halls, you are welcome to contact SJ (they/them), community director for the Gender Equity and LGBTQIA+ Scholars communities, at sjwil@uoregon.edu.
Contact LGBT Education and Support Services for more information about LGBTQIA+ campus resources and student organizations.
What is the LGBTQIA+ Scholars community?
The members of this Academic Residential Community share intellectual and social experiences focused on understanding of and respect for lesbian, gay, bisexual, transgender, queer, questioning, intersex, asexual, and allied identities, histories, and practices.  
In this community you will be learning about topics you are passionate about while inspiring and teaching each other. You will have the opportunity to go to LGBTQIA+ events, lectures, exhibits, conferences, and other leadership and cocurricular events. 
You will also have access to individual academic advising with the LGBTQIA+ Scholars faculty director. The seminar-style class is designed to provide time and space to discuss and apply the ideas from your core ARC classes as well as to introduce you to university and community resources. You will engage in projects designed specifically for your community.
Most importantly, you will be able to connect with new friends and allies in a living-learning environment focused on what it means to be an LGBTQIA+ student, peer, and citizen. You may even find ways to create positive change on our campus as well as in other local communities.  
What are the benefits of being in this community?
Learn about LGBTQIA+ history, literature, and influencers in the field
Meet with a faculty director and LGBT office coordinator committed to your success
Connect with friends and find community among LGBTQIA+ folks
Attend socials, events, and activities with the LGBT office
Gain direct access to LGBTQIA+ campus and community resources
Attend tutoring sessions and individual academic advising
Earn general education credits, or credits for a women's, gender, and sexuality studies major or queer studies minor
What courses will we take?
In addition to the one-credit ARC seminar (UGST 112), members of the ARC will take a course together each term with the intent and option of earning a minor in queer studies.
Your faculty director will support your success in those courses by meeting with you each week and supplementing the courses with guest speakers, cosponsored programs, social events, and community service opportunities. All these courses—including the ARC seminar—fulfill general education requirements.
Location
Residence Hall: Earl Hall. Students living in this community will select roommates who are also in the community.
Please note that communities can be moved to different residence hall buildings if the size or need of the community changes.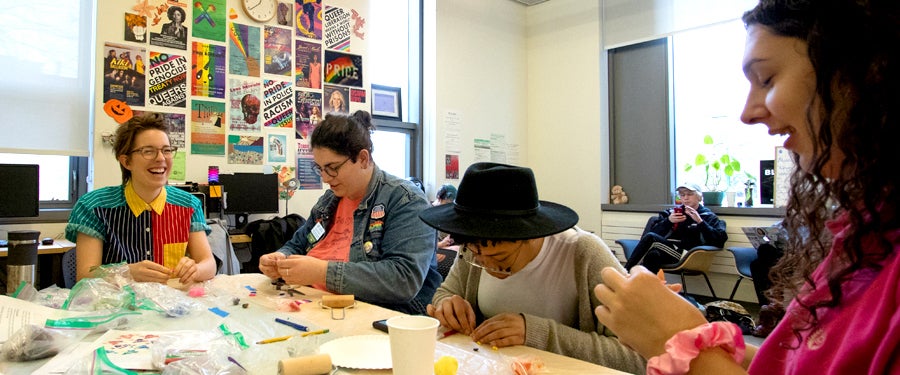 For more information, contact lgbtscholars@uoregon.edu.
Who is eligible and how do I apply?
This community is open to any student who wants to live and learn with like-minded peers, inclusive of your backgrounds or identities.
Register for University Housing and select the community you prefer in the "Community Preference" section.
Fill out the supplemental questions on your housing application. The program director will be in communication with you over the summer to remind you to fill out the form and determine class placement and details.
Explore other Community Options