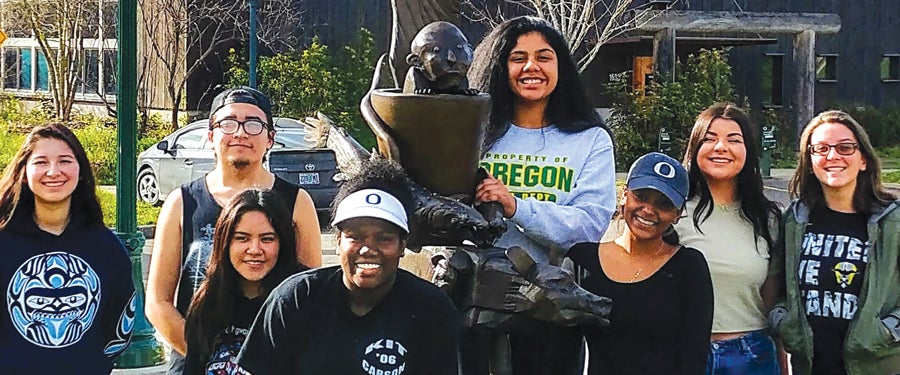 This community is full for fall 2021.
What is the Native American and Indigenous Studies Community?
This residential learning community is for students who are interested in learning about indigenous peoples of Oregon, the US, and the world. Students will develop knowledge and an understanding about the issues and challenges facing today's and tomorrow's indigenous communities, as well as exploring solutions to those challenges.
Academic Residential Communities offers core courses, workshops, community service opportunities, mentoring, seminars, and academic counseling. ARC students will live collectively in Kalapuya Ilihi located adjacent to the Many Nations Longhouse, with a resident assistant who will act as a mentor and assist students in their success.
Why should I choose to live in this community?
The Native American and Indigenous Studies community will provide a strong residential academic cohort support system for students' academic and social needs and connections to community and cultural traditions. In fact, upon successful completion of the three NAIS ARC classes and three seminars, students will have completed more than half of the 16 credits required for the interdisciplinary minor in Native studies.
Students will interact with faculty both inside and outside the classroom, as well as interact with upper division students who share their major or scholarly area. The connections between scholarship and community experience are further developed through cocurricular programming, including seminars, workshops, events, guest speakers, and professional development opportunities.
There will also be opportunities for collaborations with other ARCs and groups who share similar goals and connections including the Native American Student Union and cultural events at the Many Nations Longhouse. The combination of curricular and cocurricular programming is designed to encourage academic and social growth among students and scholars with shared vision, with a goal of nurturing both individual and community empowerment.
What classes will we take?
Three one-credit seminars (one each term)
Three four-credit cocurricular lecture classes in Native American studies (one each term)
One credit of service learning in support of the Native American Student Union's Mother's Day Powwow (spring term)
Location
Residence Hall: Kalapuya Ilihi. Students living in this community will select roommates who are also in the community.
Please note that communities can be moved to different residence hall buildings if the size or need of the community changes.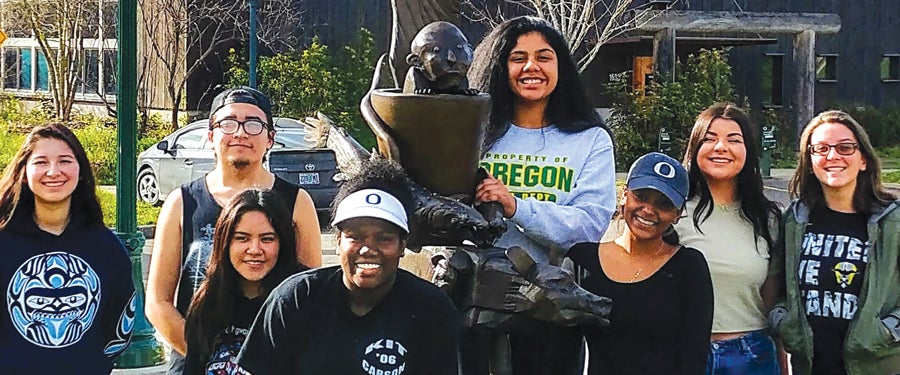 For more information, contact naisarc@uoregon.edu.
Who is eligible and how do I apply?
The Native American and Indigenous Studies community is for students who are eligible to live in university housing and are willing to enroll in the required courses. Students also participate in cocurricular activities (workshops, events, service learning, etc.) and are encouraged to serve as a mentor or mentee through the peer mentoring program.
Register for University Housing and select the community you prefer in the "Community Preference" section.
Fill out the supplemental questions on your housing application. The program director will be in communication with you over the summer to remind you to fill out the form and determine class placement and details.
Explore other Community Options