Hamilton Walton Tranformation Project Construction
Dynamic and attractive communities are needed to help drive and support student recruitment and retention in a very competitive environment.
Students who live on campus in the UO's high-quality, learning-centered residential communities have higher grades, higher retention and graduation rates, and graduate faster than students who live off campus.
Living on campus at the UO facilitates diverse and inclusive communal engagement, contributes to students' exploring purpose and meaning, and facilitates students making long-term social connections.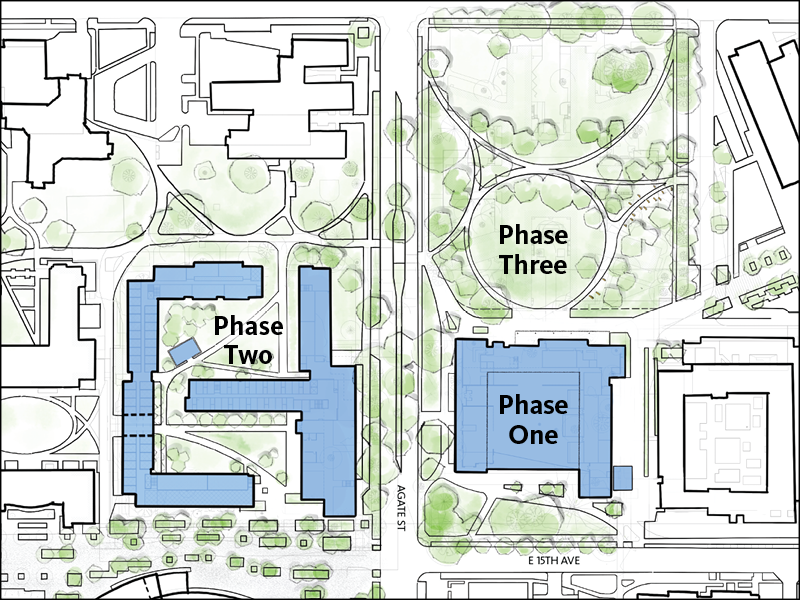 Project Overview
The Hamilton Walton Transformation Project will unfold in three phases:
Unthank Hall (completed summer 2021) on Humpy Lumpy Lawn contains the Student Welcome Center, PNW Market, academic spaces, and residences for 700 students.
Removal of Walton Hall and construction of two new residence hall buildings (completed August 2023): the New Residence Hall will contain academic spaces, a service center, a package locker delivery center, and residences for 705 students. The New Apartment-Style Residence Hall will contain four-person and single-occupant studio units for 400 students. 
Removal of Hamilton Hall and development of a new green space which will be larger than the Humpy Lumpy Lawn that Unthank Hall replaced.

Phase Three
Phase three of the Hamilton Walton Transformation Project (HWTP) will be the addition of a beautiful green space in place of Hamilton Hall.
Phase Three Project Facts
The new green space is being constructed as a replacement for the gone-but-not-forgotten Humpy Lumpy Lawn, which was flattened out to build Unthank Hall (HWTP phase one).
Completion of phase three will create an uninterrupted green space that stretches from the Erb Memorial Union lawn to the alumni center and Matthew Knight Arena.
Funding sources: revenue bonds/internal bank, university carry-forward funds, fundraising, and sponsorships
Phase three combined square footage: 161,500 GSF
Anticipated cost for phase three is $7 Million
Phase Three Timeline (tentative)
Start date: July 2024
Completed: July 2025
Sustainability
Project administrators located the building to preserve as many of the large trees along 15th Avenue as possible. Some of the trees that will be harvested will be used in the project.
The amount of green space that will be available after the entire project is completed will be larger than the current green space by approximately 20 percent.
All three new buildings will meet the Advanced Energy Threshold—25 percent above the current state energy code—and will earn LEED Gold certification.
Construction Update
We're getting close! The New Residence Hall and New Apartment-Style Residence Hall are almost finished. Last steps are landscaping, fence removal, site cleanup, and minor punchlist items. The buildings are scheduled to be certified by the City of Eugene for occupancy by mid-August. The site will still be busy as we take deliveries of furniture and appliances, so watch for large truck traffic.
The naming process is underway, with the goal of having names approved by the UO board of trustees in mid-September.