Sarah Lambert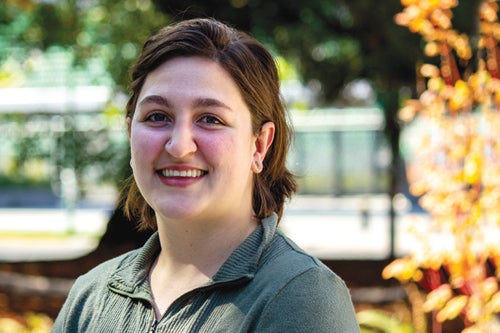 Academic and Career Programming Coordinator for College and Career Advising—Industry, Entrepreneurship, and Innovation Flight Path
What is your background and areas of interest?
I have nearly five years of experience working in higher education, the majority of which I have spent in roles around academic support and diversity, equity, and inclusion. As a non-binary, queer, disabled, Latinx person, I am committed to removing institutional barriers to education and creating a more supportive, compassionate culture.
What brought you to the University of Oregon?
I'd wanted to move to the Pacific Northwest for almost a decade, so living in Oregon is a dream come true! I'm extremely excited about my position in Tykeson; I look forward to leading programming that helps students learn about themselves and the world, feel empowered to make decisions about their academics and lives, and utilize their strengths to make their dreams come true as well.
How did you get involved in academic advising?
I was diagnosed with ADHD at age 23, in my first semester of graduate school. Looking back, I had built a lot of coping mechanisms and academic strategies that helped me succeed in school, and so it feels natural for me to help others do the same. I'm a natural problem solver and cheerleader, so working with students to devise study plans, career plans, and life goals is right up my alley!
What's the best advice you have for a college student?
You're probably being too hard on yourself. Relax, take a breath, and remember that you don't need to have all the answers—that's what faculty and staff are here for. We care about you and want to see you succeed, so please reach out anytime.
How can students contact you?
Feel free to email me at slamber4@uoregon.edu—I'm always happy to chat.